23andMe is preparing to transition customers located in Canada to an updated version of the 23andMe experience. You will receive an email when your account has been transitioned.
New 23andMe Experience | Old 23andMe Experience
New 23andMe Experience
The 23andMe DNA Relatives tool is a popular, interactive tool that allows you to find and connect with genetic relatives and see specific DNA segments you share with them. The DNA Relatives tool can identify relatives on any branch of your recent family tree by taking advantage of the autosomal chromosomes — the 22 chromosomes that are passed down from your ancestors on both sides of your family — and the X chromosome.
The DNA Relatives tool includes a few ways to help you filter and sort your list of genetic matches. To get started, use the filter options on the right side of the page to find those relatives that are of interest to you. Once you find a relative you would like to connect with, you can send him or her a message, favorite the relative, or establish a sharing relationship. To easily find relatives you marked as favorites or ones with whom you have a sharing connection, you can use the sorting options located at the top your list.
Some users are more interested in a certain degree of relatives — whether closer or more distant. Using the Strength of Relationship sort option, you can order your list based on predicted relationship, percent related or the number of segments shared. You can also sort your list to surface the newest matches first, by using Newest Relatives in the Strength of Relationship sort option.
Sort by
There are several options for sorting your list of matches, but only one sort tool can be used at a time. You can combine sort and filter options to narrow your list down.
Favorites | Strength of Relationship | Sharing Status
To keep track of certain matches (such as those you exchanged messages with), you can click the star at the left of their entry to mark them as a favorite. By clicking the star in the header or in the sort by list, you can sort your matches to surface your favorites.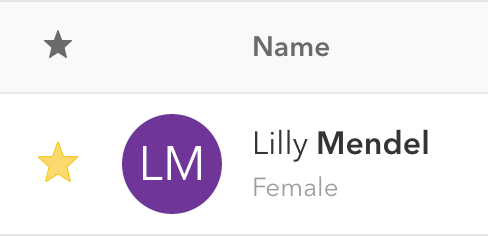 Under the Strength of Relationship dropdown you can sort your matches by relationship, percent related, or segments shared.
Strength of Relationship sorts by the predicted relationship from the closest relative down to the most distant.
Percent Related sorts by the percent DNA you have in common with matches.
Segments Shared sorts by the number of segments you share with matches.
Newest Relatives sorts by your list to surface relatives who more recently opted to participate in the DNA Relatives tool.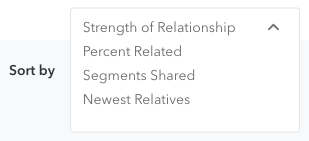 You also have the option to sort by sharing status:
Sharing means you have established a 1:1 sharing connection with the match.
Pending means the sharing invitation between you and the match is awaiting a response.
Open Sharing means the match has elected to share certain information about himself or herself – including the location of overlapping DNA segments and ancestry reports – with his or her matches without having to establish a 1:1 sharing connection.
Not Sharing means you are not sharing with these matches and the match has not elected to participate in Open Sharing.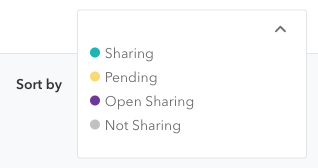 Filters
Filter options can be used to quickly and easily view certain relatives in your list of matches. Filters can be used on their own or in combination with the sort options.
Search | Relationship | Ancestor Birthplaces | Surname
Mom's Side/ Dad's Side | Hide Anonymous Matches
Search can be used in conjunction with other filters and sorting. Search for surnames, locations, or other information about relatives to narrow your list by that criteria.

The Relationship filter allows you to only view certain matches – such as those that are likely to be a 3rd cousin or closer. Use the Relationship slider to filter your DNA Relatives based on the lower limit of your predicted relationship range. To only see DNA Relatives with predicted relationship ranges that begin at 3rd or 4th cousin, for example, set the lower end of the slider to "3" and the upper end of the slider to 4.

Searching by country of origin can be a useful way to research your family roots. Click a country to filter your DNA Relatives list to people with at least one grandparent from that country. Click the secondary filter to refine your list to matches with two, three, or four grandparents from that country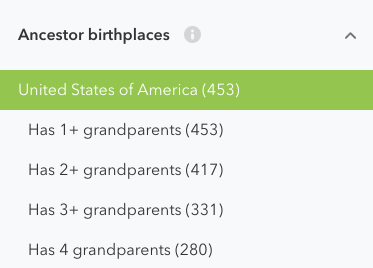 Surnames can be important clues about branches of your family and connections to relatives. Select the box in front of a surname to see all of your matches who have that particular surname in their family tree.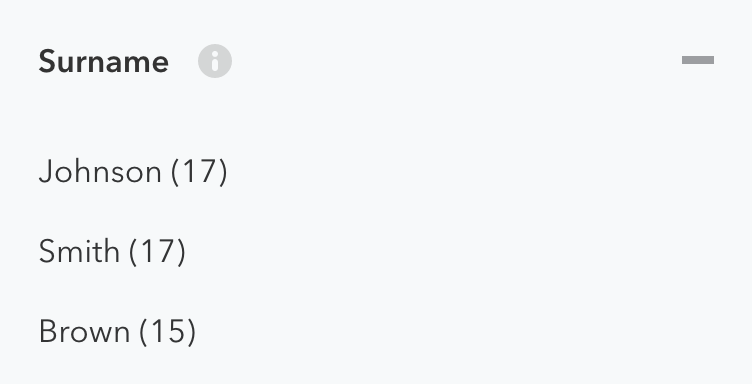 If you have one or both of your biological parents genotyped with 23andMe and are sharing with them, DNA Relatives can determine whether a match shares DNA with both you and one of your parents, and therefore is likely to be on either your mother's side or your father's side.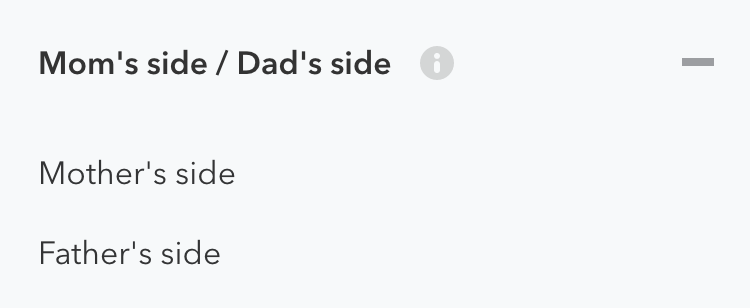 Matches who recently transferred to the new 23andMe website experience are listed as anonymous until they opt in to the new DNA Relatives tool. Use this filter to hide these individuals from your list.

Old 23andMe Experience
DNA Relatives is one of the most interactive features of 23andMe, allowing you to find and connect with genetic relatives and learn more about your family. Genetic relatives are identified by comparing your DNA with other 23andMe members who are participating in DNA Relatives. When an identical stretch of DNA is found, the individual is listed as a match in your DNA Relatives list along with the predicted relationship, his or her haplogroup information, and any profile information your match has made available to his or her matches.
DNA Relatives offers three ways for you to view your genetic relative matches:
List View
The main view of DNA Relatives offers several options to search and sort through your matches. 
Search Matches
Maternal and Paternal Labels
Sort Menu
The first row in the list is always you! This lets you see what your matches see.

Search Matches
You can search for any keyword using the search field including family locations, family surnames, haplogroups, and the names of your matches.
Maternal and Paternal Labels
If you have one or both of your biological parents genotyped with 23andMe, DNA Relatives can determine whether a match shares DNA in common with both you and one of your parents, and therefore is likely to be on either your mother's side or your father's side.
Using the Show menu, you can filter your matches by which side of the family they are on. 
M labelled relatives match both you and your mother
P labelled relatives match both you and your father
M/P labelled relatives match both you and your mother as well as you and your father
Some more distant matches may not receive labels if they do not appear on either parent's DNA Relatives list 
If you only have one parent in the system, you will be able to use the filters to show only people who match that parent, or only people who do not match that parent. In many cases, a genetic relative who does not match your father matches your mother, so you can find relatives from both sides even if only one parent has been genotyped.
Learn more about Maternal and Paternal labels
Sort
By default, your matches are sorted by their relationship with you. The relationship is determined by looking at both the percent DNA shared and the number of segments in common. In some cases, you may prefer to view matches with certain characteristics first. Using the sort menu, you are able to sort your matches by the following criteria:
Relationship
Percent shared
Number of segments shared
Contact status
Name
Age
Haplogroup
Recent relatives first  

Map View
The Map View offers you the chance to display your matches on a world map. This can be incredibly helpful for anyone on a genealogical hunt who must triangulate between multiple different sources of information about their ancestry. In this case we show how your matches cluster on a world map, which in turn can help you target your search.
Map View references the information your matches have listed in the Family Locations section of their profile information.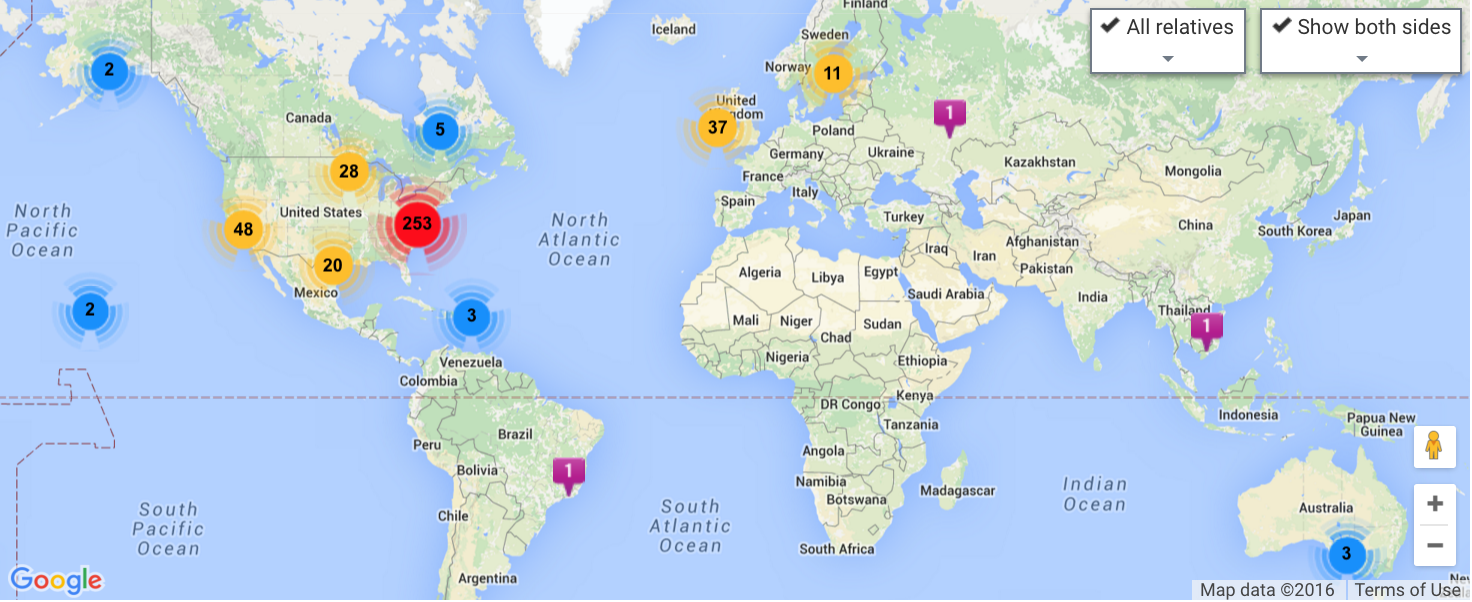 Surname View
The Surname View within DNA Relatives shows the self-reported surnames that your matches have listed in the Family Surnames section of their profile. Using this view, you are able to see which surnames are most commonly listed by your relatives as well as how unique the surname is compared to the 23andMe database. You are also able to see the closest genetic relative match who has listed each surname. If you listed the surname in your profile, the closest genetic relative will be you. 
While Surname View surfaces the self-reported information of your matches, it is important to note that DNA Relatives does not use surnames or other self-reported information to identify matches. The matches listed in DNA Relatives were identified using your genetic data. 

Surname
Click on a surname to see your DNA Relatives filtered by that name.
Closest relative
This column indicates the distance of your closest DNA Relative with a particular surname in their profile.
Count
This column indicates how many of your genetic relative matches have a particular surname in their profile. Only surnames that occur five or more times in your matches are shown.
Enrichment
The Enrichment column shows you how common a particular surname is among your matches compared to the entire 23andMe database.
We include this Enrichment value because without taking the baseline frequency of a name into account, most lists are dominated by common surnames. You can think of this list as ranked by "uniqueness" among your matches.
Enrichment is computed via a one-tailed binomial test as follows. The reference frequency of the test is the frequency of the given surname in the 23andMe database. The counts in the binomial test are the number of occurrences of the surname among your matches and the total number of surnames among your matches. The test results in a p-value; we then report -1.0 * log10(p), so the bigger the number is, the more unusual it is that a surname was at such high frequency among your matches.